PAGE 2, Click left. 30 pictures. Nuclear marshmallows. RV travel in Hawaii. Ship burning with passengers aboard.

30 Pictures revised here 3-21-08 See DRAMATIC PICTURE BELOW OF BURNING PASSENGER LINER. I'm pictured in a book, rowing beside it alone, in a different scene. Passengers about ready to jump off.
This is the RV page scroll down for pictures. Living in RV's in Hawaii pictures, Click on any titles in left column for other subjects.
The annual Mobilehome shows I formatted and helped underwrite.
See http://www.mhrvshows.com. In 1965 we had 13 at dealer meetings but 9 months later, after we incorporated non profit for charity purposes, we had 105. I was first President. We had banks, media, insurance, and suppliers as associate members. Over years Governors spoke at every show opening. After the first show of this new corporation, the industry nationwide followed it's format, no doubt hastened by several "how to" stories I wrote, featured on national magazine covers .A prior organization TCA (11 states) adopted a code of ethics I presented, verbatim.
"One vote of confidence" One reason the 3rd largest stadium in the U.S. got built, is I sent a telegram for a 10 year first reservation if the voters would approve construction. It was the highlighted focus of a state wide press conference by Joseph Gandy, former World's fair president. Soon the vote passed by close margin, Our organization leased the stadium for decades..
Multi state license registrations at the time showed my firm, Von's, sold the most. RV's/
Lt Governor John Cherberg, made me one of the first honorary Generals in 1972. In 2005 Senator Cheryl Pflug sponsored a bill making us international goodwill ambassadors, which I exercise in a long standing group of Mensans I formed from 46 countries with focus on goodwill via positive thinking
In 2005 promoted to 4 star General. In 1972 John K Hanson, founder of Winnebago suggested me for nomination into the industry hall of fame it's first year a dealer near the museum got the award. I was retired to raise children.
CLICK ON VARIETY LINKS IN LEFT MARGIN.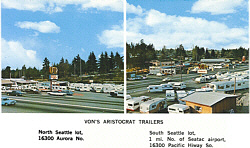 vonsrv.com 1968. At one time had 5 sales locations in 3 states It began 1953, when a girl, jilted me because I was only a door to door salesman. I traded the ring for a down payment on a trailer and lived in it to save rent, while renting the front half of it to a friend. . I borrowed more on it to buy another to rent out, then borrowed on 2 for 2 more, etc. By 1957 went into sales also. It still runs in family, vonrv.com, (Downscaled) .My first rental was paid in advance so I could have a nice honeymoon with a late wife. I converted one location to airport parking in 1978 http://www.extracar.com You can do simple things like that too. It's just an exercise in math.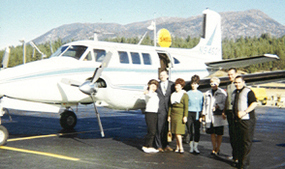 Aristocrat trailer manufacturer. It seemed educational to fly to so many places. Eventually he acquired a Ford tri motor antique plane for his antique museum complex. .
Mfgr. Irv Perch on right. I'm on left
Aristocrat was the VW of RV's
. Above is a 1967 photo, The factory salesman told me none of the other dealers wanted the new brand in Seattle, to his surprise. . I did. It became the best seller and I was the top dealer. It was like a movie but it was real. Later I watched Irv inducted into the manufacturer's hall of fame. Better than a movie.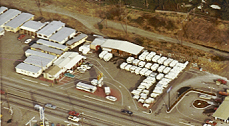 1968 Part of main sales lot
Mobilehomes/RV's
16300 Aurora, "Von's Square" I began very young without a bank loan as they would not loan on mobilehomes in 1953. I since built a small mall there.
.About 1961, at least 65 banks adopted a consumer financing plan I formulated for them.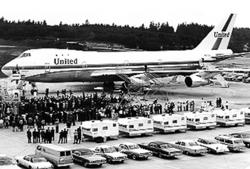 First Boeing 757 with Aristocrat trailers in foreground for executives. Everett, Washington State.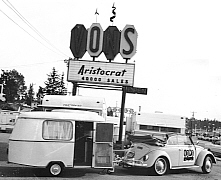 Everything seemed perfect, Later that year my wife died, the Erica trailer factory burned down, the Manfacturer's agent died in a German car wreck, I sold the business on contract but took it back for a few months in 1971.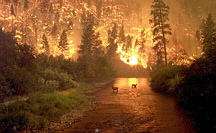 Montana fire circa 2001, Elk in river.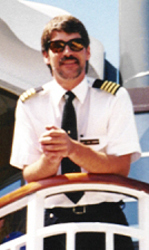 Today's owner of vonsrv.com Son in law Captain Gary Turner, took me on his ship in 1993. He survived being swept overboard in a Bering Sea storm. The first trip with his Captains license, he had to put out an engine room fire in a fire suit .It reminded me of one of my first sailor jobs age 16, 4 of us on a tugboat, helped rescue navy men from a sinking navy ship the third day on job.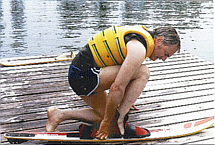 I'd rather snorkel. Lake Chelan, right before Mt. St. Helens erupted. The boom echoed through the mountains, back and forth. The stub of the mtn is pictured elsewhere here.
One of newspaper stories. This one from 1994 to 500,000 readers. Was also in a German magazine. The story tells about various free services I provide with the time at 206-365-TIME (8463) for West coast since 1987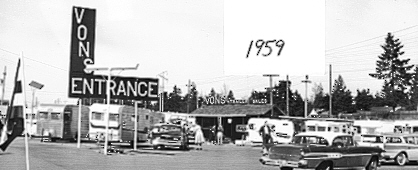 My step Grandfather made these signs a half century ago. Nice guy, a Norweigian fisherman. The man in foreground was Chuck Ceder, a will known race car driver, salesman. When we lived on Vashon island waterfront, he made me a rowboat.

1962 Sign on truck says visit Seattle Worlds Fair.Sometimes got 3 loads daily. The trucks each drove over 100,000 miles per year. Every season I would open several branch locations. Now I can reveal, even though we had the best seller, the only locations showing a profit were where I was, so there goes a "luck" theory.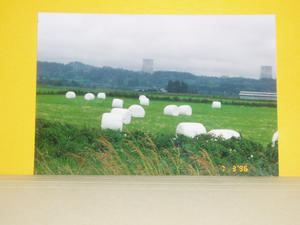 Satsop nuclear towers in background, upwind, helped this marshmallow farm.. Perhaps you are just as surprised as I was? One marshmallow alone can feed 3 families for a week.
Now the nuclear part is gone and the farm had to change crops., because people already had several marshmallows anyway, and they last so long. I still have one myself, in fact. You see these things when you travel with an RV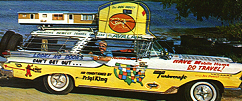 Locked in this car for one year. He parked on our lot and drivers just had to stop because they wondered what everyone was in a circle looking down at. 1958 My super healthy Grandfather in law, age 94, hitched a ride to Montana with him in the trailer, and would go in and get them food at groceries.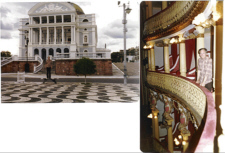 2,000 miles up the Amazon, Rubber barons built this exact replica of La Scala in 1895 That's me on the box rail .Outside took the pictures of officers. See them below.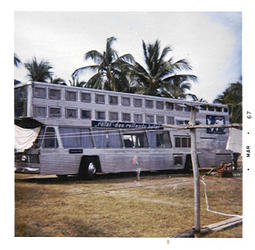 Rotel das rolende. A portable hotel seen in Mexico. 1965 or so.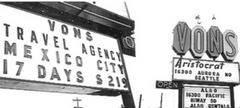 A travel agency business seemed like a good sideline, Composite picture.

Living with kids on Hawaii beach. Only trailer on island of Oahu.

The second winter in this trailer on island of Hawaii. .. Kids at old Kona school with no windows and many lizards. Was investigating the market for RV sales and mobilehome parks in Hawaii.This made two cover stories in National magazine stories I sold, and also in several newspapers. Half page in Sunday P.I. The second year moved a larger trailer to Kona on big island. Double rainbow almost shows above here.
At 206-365-1659 on ext 5011, I will tell you more on a recording.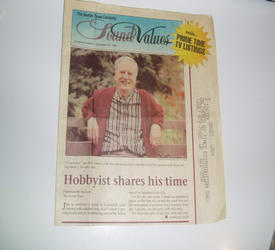 The Times got good response so they put a revised story on the front page of a quarter million smaller edition. It's about the free time and temperature I furnish since 1987 at 206-361-TIME (8463), plus sunrise, sunset in two major cities.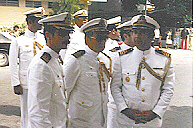 Brazilian Navy 1,400 miles up Amazon to Manaus.Look at bystanders in distance. I now realize I should have been on sidelines.

We can be friends, after all, I am an official international goodwill ambassador per the state senate. (2005 subbill) You can help me practice.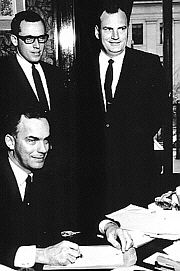 Governor Evans signs special Mobilehome, RV Show day. 1967 That same year, Mayor Braman and I were on cover of Seattle Guide.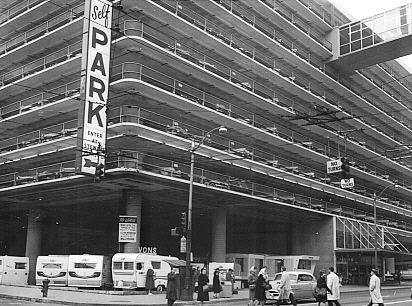 Center of city. 28 buses used this corner for stops. 1962 during World.s fair. I was on 30 days noitce to move out if they needed it. to build on. We could only get in to move units at 0200. Mobile home in corner.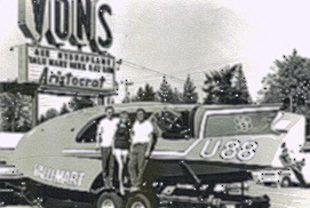 We were participants in annual gold cup hydro evernts. Von's was listed right after "U.S. Navy" on the race programs." I am on left here.
Bill Wurster, driver, won the "Consolation Heat" at 102 MPH. We had a race car not shown.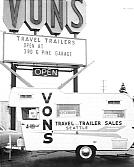 Trailer painted for TV scene. I tell RV stories at 206-365-1659 (recorded) It was a resting place for gold cup hydro drivers.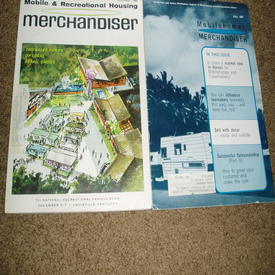 Two national cover stories.. The one on left I told how to run a profitable trade show, which changed the RV industry. On right , I wrote "Is There a Hawaiian Market?" Picture was at Black Sands Beach, now under thick lava.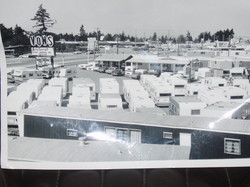 Ground level view of main sales lot on Aurora in 1964, now called "Von's Square" with professional office spaces.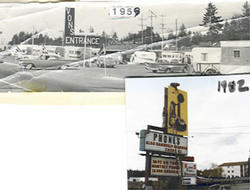 1987 I built a building to house our " World's largest telephone store" having begun with 3 telephones only, then advertised in 105 million telephone books in 3 countries. One daughter still does mail order for Panasonic at 1-800-732-3946
Closed store front in 1994 to lease out space.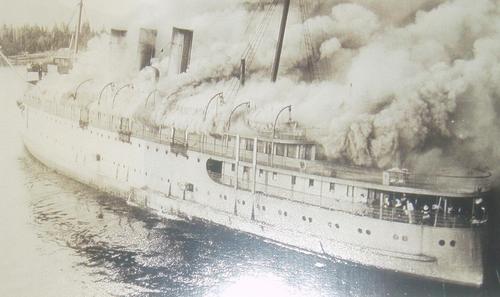 Now go to left margin above and click on next page text you wish to view; I came to Alaska in steerage class on the sister ship of this ship, the Prince George,. (The Prince Rupert) My fellow steerage passenges were Fillippino cannery workers. My Swedish Grandmother suggested I go "steerage class" the way she came to America at 16.
I came back to Seattle on regular class passage paid for by working in the fishing industry, both as a trap guard on a remote island, and as second engineer on the ship that would unload the fish trap. Attended Kethcikan High school for short time. Click left margin index for more pages.