PAGE 9 of 13 World war 2 secrets revealed decades later. More to come yet as I get around to it.

Worked on ferry Kalakala age 15. . My Mom did comment later she should read things better before signing. (the permission).
I returned to the U.S. age 17, to finish high school, too young to be drafted. In short time though, I got the first equivilant diploma issued in Seattle. (GED), the ink was wet. On return I found my Mother had moved to Ketchican as secretary to Alaska's district attorney, so I went there for awhile and got on their high school honor roll, after living on an island alone for part of the summer, and working as an engineer on a cannery tender.
Since we were aviation gas tankers with sometimes a deck cargo of fighter planes, we were top target priority and the submarines saw us. In June 1944 we were attacked by a German submarine but changed course so rapidly I lost my balance. My first thought was "who the heck is steering?" not even thinking of an attack as there had been no alarm. They probably thought we were loaded with fuel because we were carrying water from Panama to Curacao and Aruba where it was arid. Then we picked up Venzuelan gas for the invasion of Saipan . I did not learn a wartime secret until 2007 when I discovered the Merchant Marine had the highest death rate, 4% of any of the war services, but not only that, the Caribbean was by far the highest loss rate, much higher than 4% and they did not want us to know, as we were volunteers.
I often think of the stars from the blacked out ships deck, thousands of miles from land. It was the same effect as being in outer space. We had no lights so we not be seen. . We went through the Panama canal seven times. Later I went through twice again, by train and by small bus with a very large local lady sat on my lap holding an animal. They warned me not to walk on the sidewalks in Colon as it was too dangerous, but to walk along the street.
I could not downsize the following picture as I would wish. Serious expression is about "war".
Queen Anne News features Grizzly alumnus

Neal Vonada: The voyages of Grandpa Time

(Story in the Queen Anne News, also Magnolia News)

While everyone was turning back clocks last weekend, the phones at 206-361-TIME were ringing off the hook. A familiar recorded voice, low-key and comfortable, announced the new correct time, date and temperature. Then the speaker, who identifies himself on the line and on his Web site as "Grandpatime," suggests that if you'd like a few stories or comments, you might want to dial 365-1659.

The equipment can handle up to 9,000 calls daily. Some callers are just lonely, wanting the sound of another voice. Many live alone; some are blind. Some are bi-polar or have other mental illnesses and simply need the feeling of being connected. Others dial in because they feel they have found something unique, an oasis in a world that seems increasingly harsh.

Most of the listeners would be surprised to learn that the voice is that of a 76-year-old Queen Anne High School alum who dropped out at age 16 to join the Merchant Marine, and who experienced World War II in both Pacific and Atlantic waters.

Neal Vonada, '45, in 1943, a high school dropout (temporarily) and merchant seaman.

Today Neal Vonada remembers coming back to Queen Anne as a 17-year-old veteran whose second stay in Queen Anne High School turned out to be a brief one. "The English teacher asked us to write an account of how we had spent the summer. I wrote about all the Panamanian nightclubs I had seen while waiting for a ship. She asked me, 'Why did you write this in first person, almost as if you had been there?'

"It wasn't long before a teacher named Bassford recommended I transfer to the new veterans' program at the old Broadway High School."

Despite that brief interlude, Vonada has been an enthusiastic participant in Queen Anne High School reunions and served on reunion committees. He emceed one reunion when the chairman of the group was unable to attend. Though he now lives in another part of Seattle, he finds his way back often, maintaining friendships that have been in force for years.

Recently he and Ronald Wyman, his buddy from West Queen Anne Elementary who hopped the same freight train to San Franciso, Neal did to get to their first ship, spent a day reminiscing. They talked about their first week on board.

"We thought we were reliving all those Jack London sea stories we had been reading," Neal recalled. "One of those first days, a large Navy tugboat was helping us dock an aircraft carrier. Suddenly the carrier's propellers ripped open the tug, and [that tug] swung into ours. Ours was the S.S. Sea Queen, a pioneer steam tug from the 1890s. Navy men were jumping aboard with us as their ship was going down."

Sixteen-year-old Neal stopped a crewman who was about to tie up their tug to the sinking one. "If he had, we would have both gone down in a matter of minutes."

Before he was 18, the young Neal had seen service in both war zones, been under enemy fire and survived one submarine attack. Finally came the long haul from Panama to New Orleans, heading home.

Neal revealed that his high school studies could have been useful in his war service. "In 1943 in Herr Uhl's German class, I would have paid more attention if I had
known I would soon be walking five feet from the men in a long line of submarine
prisoners, possibly from the U-505 passing through a quarantine compound in
Panama. I could not tell from their uniforms what nationality but learned
later they were German. They looked very somber and unhappy."

"We were towing a disabled freighter with a deep-sea tugboat at walking speed. When we finally reached New Orleans, I had to wait two weeks for my pay, two weeks in the St. Charles Hotel in the very heart of the French Quarter, with a French pianist playing in the Absinthe Bar, the oldest bar in the nation. He'd put his heart into 'The Last Time I Saw Paris' - singing in French, of course. But I think I remember singing along.

The troop train heading north to Seattle was packed. And the innocent-looking, blue-eyed 17-year-old was taking money from soldiers who had winked at each other when they invited him into a poker game. "I even felt guilty about it."

Vonada's return to his mother's Queen Anne apartment was not an auspicious one. There was a note on the kitchen table: she and her new husband had gone to Alaska to work until the war was over. Neal followed. He spent a summer alone on a remote island guarding a fish trap. After a stay in Ketchikan High School, where he was on the honor roll, he felt a longing to be back on Queen Anne. He returned and earned the first GED diploma issued in Seattle.

"The ink was still wet. They called me into the office, said they wanted to meet the fellow with the highest score."

There followed a succession of jobs. And after a business career that soared and enabled him to retire at age 41, Neal still credits much of his success to two of those early jobs: selling Fuller brushes door to door and selling cemetery plots for Evergreen-Washelli.

"I loved those jobs. I'd sell Fuller brushes in all the big business buildings downtown. I had to quit going to one of them because the manager kept pressuring me to sell insurance for them and named a hefty figure. I didn't have the heart to tell him I was making more selling brushes."

The mobile home and recreational vehicle business, just coming into its own in the 1960s, started in a small way for Vonada. "I was living in a 32-foot trailer. It was more room than I needed, so I rented out half to a friend. That worked pretty well, so I told my mother I thought I'd buy another trailer and live in that and rent the other one out." Before long he had trailers rented out in many places, often as temporary housing for people building a home or working on construction jobs.

In a short time Neal owned five lots that sold mobile homes and RVs. He organized and headed an industry association for putting on stadium shows. Other ventures followed, including the development of a strip mall. (Update, because of public service, I was made an honorary 4 star Washington General. In 2005, the state senate passed a bill making the Genrals who are active, to be "International Goodwill Ambassadors" which is what I work on anyway, regardless)

So why does a man who could be spending his "golden years" in a sailboat off the sands of Bora Bora choose instead to spend his time providing a "telephone refuge" to strangers?

Partly, he says, it was the sense of what his customers had done for him and his resolve to, in some way, "pay back." Even more may have been the death of his first wife, Joan, at age 36 from cancer. "It changed me," he says now.

He remarried for a short time and that wife passed away young.

Vonada met his last wife, Jan, at a party."I turned around and there she was, not a foot away from me, looking straight into my face. I thought, That's a strong, independent woman, to stand so close. I want to meet her."

Several years into their marriage, he reminded her of that moment. "Oh, yes," she remembered. "I had lost my contacts and I was trying to see what you looked like."

But Jan, too, lost a battle with cancer, and Neal was left with three children and 2 step children.

"Grandpatime's" two call lines are not Vonada's only interest now. He is a member of the prestigious international Mensa organization, dedicated to the advancement of intelligence in the world. As such, he organized and participates in a 200-member e-mail group that has members from 40 countries.

Neal makes no apology for the fact that he is self-educated and does not have a college degree. A story is told about a party at his house where a guest, looking out at the spacious grounds, asked, "Where did you go to school?"

Vonada replied, "I went to Queen Anne High School."

"No," persisted the guest, "I mean, where did you go to school?"

"Oh," said Vonada, "I went to West Queen Anne Grade School."

Vonada's late wife was passing by at the moment and overheard. "That," she told him after the party, "was when I realized one of the reasons why I love you!"

In 1988 the telephone company discontinued its free TIME phone line. Sensing that there was a need for this service, and spurred by the fact that he now owned an electronics store and could set up the equipment, Vonada took it over as a volunteer service. (He also provides big, lighted time-and-temperature signs on properties he owns in the Seattle area.) The talk line came when he realized there were people who were looking for more than the time of day.206-361-TIME

The Grandpatime talk line has available 84 hours of tape, of which about 30 hours are in use at the moment, updated often. But it is more than a collection of jokes, reminiscences and philosophy. There is a feel of Mark Twain in all of it, but the humor in his own observations is softer, often subtler even than Twain's.

Much of the appeal comes from the delivery. It is informal ("Let's see, where did I put that?"), grandfatherly, intimate. Topics vary. On a recent link Vonada gave a vivid description of early-days theaters in Seattle. He gives the location of the planets on a particular night. There are sea stories, ideas for self-help. The approach is nonpolitical. There is positive thinking in easy-to-take doses.

Neal's jokes are the quiet kind that sneak up on you. Sample: the woman in the senior center who advertised for a "long-term relationship," adding, "I have buried four husbands and would like to round out the six-unit plot." That's about as racy as they get.

There is a five-minute space here and there for comments; if there is a complaint about any piece of material, Vonada removes it immediately. He says reactions are 99 percent positive, though one woman threatened to find him and "kill him with an ax." (Later, when she was back in treatment, she called and left an apology and a "thank you for being there."

Those five-minute response opportunities get a lot of "thank yous" and "bless yous." Here are a few others:

"I don't know what I would do if I didn't have you to call in the mornings."

"I lost my sight in Vietnam. Thanks for your time and stories."

"You remind me of my dad, full of logical ideas."

Twice, callers reported, "You saved my life," listening to him in the middle of the night.

Then there is this e-mail from a Mensa group he wished to resign from: "Sorry, Neal, your request to be deleted is denied. You provide us with giggles, emotional warmth and precious insights into ourselves and others. You can't go."

Neal rarely meets any caller face to face. But on a recent October afternoon he took longtime caller Mary to lunch. Mary often leaves messages, and Neal had been impressed with her cheerfulness and positive attitude long before he learned of her troubles.

Mary is blind and has lost hearing in one ear. She is bipolar but stays on her medication and has held a responsible job as switchboard operator at University Book Store for more than 25 years. She received a kidney donated by a friend but was on dialysis for two years before that. She was injured in an auto accident.

"But never a word of complaint. Not one." Neal Vonada shakes his head. "What if we were all like that?"

The author of this article, freelance writer Florence Ekstrand, was editor of Queen Anne News,and Magnolia News, from 1968 to 1980. She published 18 books.

(I awarded her the "Joan Vonada" person of the year award for an editorial in 1972 to help the mobile home and RV show association I created for stadium shows.)

Neal Vonada, QA news photo
Pessimistic about your future? What do you see yourself doing 5,10 or 15 years from now? I didn't say 20 years because your ticket might only go one more day.
I risked straight commission sales, (no sale, NO pay) I retired at 41 to raise children, when my first of three late wives passed away. Later I started an electronics business to put my kids through College.I advertised in over 105 million telephone books in 3 countries. (that was a trade secret from our competition) Embassys in Washington D.C. ordered telephones and electronics for their countries. Customers included the IRS and the FBI. I got up as early as 5 AM to answer calls from other time zones. Sometimes I would arrive at the store at 10 AM and be greeted by an employee with "well, you finally decided to come to work". I would reply that I had already sold some in other time zones such as one to be shipped to Ecuador. I learned regional accents.
I closed the store when my third wife passed away.(deja vu) My daughter still sells Panasonic telephones.mail order, 1-800-732-3946
We had a Canadian toll free number.which I gave up because they were so friendly, when they called from the Yukon, they wanted long chats at then 65 cents a minute. We closed in 1995 and rented the space to someone else.
My Sea Captain son in law took me on his freighter in 1993 and I once got to run the ship electronically. The crew called me "Mr. Electronics" because of the gadgets I brought with me. They had me leave the stories I wrote about them in the ships computer, so they could show thier wives "what it is REALLY like".
TRAVEL TEACHES REALITIES, So far,I have been to about 38 countries on four continents including 43 islands. I put at least 25 traveller warning on Rick Steves web site which is still there in "graffitti wall" the 2002 portion.
Escaped from a Panamanian prison at 17,(an older seadog invited me at his expense to take a tour of Panama City casinos, but never paid the driver, (a soldier arrested us) I had told him before we began that I had no money. I spent that summer in Panama waiting for a ship home. Everyday was an adventure.
5 years selling Fuller Brushes in the central area and downtown office buildings. Met thousands of people. The more I liked people, the more sales I made. My free time of day service is payback thanks to the public.
10 YEAR RESERVATION KICKS OFF KINGDOME CONSTRUCTION; Made first reservation for the 75,000 seat Kingdome before it was approved to be built.Mr. Gandy, former Pres. of the Worlds Fair, used the reservation to help prove the need for a Kingdome, at a state wide TV press conference. The organization I drafted, the Mobilehome and RV Show, generously gave up that 1st reservation later, to Billy Graham. I helped write some laws in California and Washington. I suspect it was one of the reasons the state awarded me honoray Washington General title, a new thing to honor those who do something for the state. In 2005 the senate made some of us international goodwill ambassadors, but I was already doing that. I do it daily on the internet.
GET THERE SOMEHOW:
Hitchhiking and riding freight trains. Don't try freight trains now, it's dangerous. We weren't hobos, we just wanted to get to our ships and there were few cars, with gas rationing. We got off the freight train one cold monring in Dunsmuir. We walked to the highway all grungy. The first car to come was a black limosene with California license number ONE. I asked the passenger as we drove along how he got such a low number and he said he was a senator. (maybe in the Governors limosene?)
I recall hesitating to get into that official looking car as we were runaways from home, to go to war.
Founded Vonsrv.com. Had as many as five sales llocations,including 3rd and Pine downtown, Hawaii, and Alaska. Founding Pres. of Mobilehome and RV Show Association. (dealers, manufacturers, suppliers and finance instituitons),it benefits charities and also that industry, which did a big turn around from that point, even more than expected.
Sold one of first motorhomes in Seattle, a 1966 Winnebago prototype. John Hansen,founder of Winnebago was a friend, who then suggested I be in the hall of fame, but they had never had that for an
RV dealer and it did not pass the mobile home part of the industry, which was a lesser focus for me5 years later they began awarding that honor to RV dealers.
How do you start in business of your own? Look under the picture on the many pictures page and it tells how.

Using simple mathematics. I rented half of a trailer, to a buddy for fifteen dollars monthly, then borrowed on accumlating equities, to buy more trailers, paying everyone 12% interest. Math is reality and time works for you if you have a formula.
Established telephone business 1981 to help put kids through higher education Closed store when my third wife also died in 1994, another cancer victim.
ADVERTISING AGENCY:In 1955 I put out the forerunner to the "Entertainment books".I worked up a formula for area zoning of it and sold it via radio ads. Registered trademark "Outer Limits Advertising"
Most mobilehome dealers did not want to bother with RV's, especially rentals. We had 55 rentals, hard work, but seasonal. Pictured below is a week after 16th birthday. I had to wait until 16 to join.I had a loving Mother and grandparents, but I wanted adventure.
Learning to sincerely like all kinds of people is THE important part of life success. Below is picture from seaman papers when I turned 16.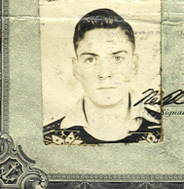 Learn from puppies. Why do most people like puppies? They ACCEPT you and show affection towards you. Be nice to everyone, no matter how they are.
Did you ever notice a traffic policeman call you "sir" or "maam?" They are showing respect, even when you are doing something wrong. That respect comes back to them eventually. But what are THEY called? "Cops" all too often. I suggest "police officers". The very same day you meet them, may have been a casual day for them, but the DID risk their life for you.