Favorite direct Links, Page 12 of 13. , These fun links could keep you busy for a week of fun and education. Suggestions welcome nealvon@comcast.net
Favorite Links. Just click the titles with cursor.
My audio program is already 25 hours long. 206-365-1659 in the United States. It's free unless long distance charges apply to get there. Needs "country code from other countires.
Picture on right. Self, Head of German Mensa, Mayor of Tuebingen in Bavaria.. I sized it wrong..
They have lived around RV's even as children and still at it.
It Couldn't Be Done

Somebody said that it couldn't be done,
But he with a chuckle replied
That "maybe it couldn't," but he would be one
Who wouldn't say so till he'd tried.
So he buckled right in with the trace of a grin
On his face. If he worried he hid it.
He started to sing as he tackled the thing
That couldn't be done, and he did it.

Somebody scoffed: "Oh, you'll never do that;
At least no one ever has done it";
But he took off his coat and he took off his hat,
And the first thing we knew he'd begun it.
With a lift of his chin and a bit of a grin,
Without any doubting or quiddit,
He started to sing as he tackled the thing
That couldn't be done, and he did it.

There are thousands to tell you it cannot be done,
There are thousands to prophesy failure;
There are thousands to point out to you, one by one,
The dangers that wait to assail you.
But just buckle in with a bit of a grin,
Just take off your coat and go to it;
Just started to sing as you tackle the thing
That "cannot be done," and you'll do it."
Edgar Guest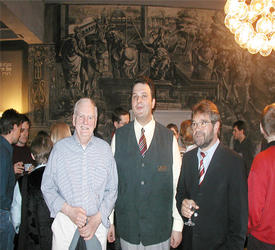 Search engines below here. Click on.
You know us as the Internet's original search engine.
One of the most visited hubs on the Internet, reaching one out of every two Web users.
With over half a million sites, divided into more than 25,000 categories, Yahoo! is both browseable and searchable.
GO Network is a new brand that brings together the very best of the Internet in one, easy-to-use place. Not verified, by me, but take a look and let me know.
Have Fun!